Product categories
Product categories are the primary way to group products with similar features. You can also add subcategories if desired.
For example, if you sell clothing, you might have "t-shirts", "hoodies" and "pants" as categories.
How to add/edit product categories
Categories are managed while in the process of adding your Products. If you didn't assign your item to a category at this time. You can always do it later by editing your items from your vendors Dashboard >Products.
 There will be a default category. Every product must be assigned to a category, so the default category will be automatically assigned if the product is not assigned to any other category. By default, It will be sent to "Uncategorized".
When you add a new product via Products > Add Product, you can select this new product category from the list.
Alternatively, you can go to Products > Add Product directly, and select Add New Product Category.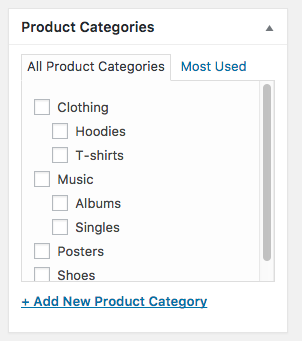 The taxonomy is product_cat. And the filtering feature becomes AJAX-enabled for friendlier use once there are 100 categories.
Product tags
What are product tags?
Product tags are another way to relate products to each other, next to product categories. Contrary to categories, there is no hierarchy in tags; so there are no "subtags."
For example, if you sell clothing, and you have a lot of cat prints, you could make a tag for "cat." Then add that tag to the menu or sidebar so cat lovers can easily find all t-shirts, hoodies, and pants with cat prints.
Product attributes
What are product attributes?
A third and important way to group products is to use attributes. There is one type of attribute all experienced sellers should know about:
Via variable products. To create a variable product, an attribute must first be defined for the product. These attributes can then be used to make a distinction between different variations. More info at: Variable Products.
For example, if you're selling clothing, two logical attributes are "color" and "size", so people can search across categories for a color that fits their style and type and clothing available in their size.
Go to: Product > Add Product.
Select the Attributes tab.
Select Custom product attribute Your products will need (sizes & colors).
Once you do That. Switch to the Variations tab and match items to specified variations.